Monday, Monday ... Tuesday Afternoon
Don hates it when I put a picture before text (so I'm writing this sentence here). I just like this picture of the ship in the harbor, so I'm posting it to start off this blog.
Monday morning saw Wendy spending a lot of time getting things ready for her first class with our students. Unlike other program directors, she plans to hold class on Monday afternoons from 2:30-4:30 and on Thursday evenings from 6:30-8:30, rather than just one night per week.
The course is the required CSB SJU Senior Seminar and the subject matter deals with Ethics. So, I naturally tried to challenge her right away by suggesting that one of the first two Thursday classes should be done independently by the students or feature guest speakers or teachers so that we could do some sightseeing out of town. This idea was promptly shot down by her so at least everyone will now know that she is consistant in her principles, even to the detriment of once in a lifetime travel with her spouse.
Her resolve will make it more difficult for us to find more than three days to travel south from here where there are some amazing natural wonders that we have been told no visitor to Western Australia should miss. Specifically, within a four to six hour car drive there are immense forests of very tall trees (200-300 feet tall) not found anywhere else on the planet. The south coast is also supposed to be quite beautiful, where the Indian Ocean meets water from Antarctica and the tumultuous "Roaring Forties" of lattitude generate strong winds and currents that have meant centuries of danger and woe to ocean travelers.
Anyway, back to Monday where after a shortened class, Wendy returned with all of our students to our apartment for a birthday celebration. We had decided to celebrate all birthdays and half birthdays for each of the five whole or partial months that comprise the semester here in OZ; July through November.
We would also add in the June and December birthdays to the first and last month respectively so that no one was left out, which meant we had seven of our group of twenty-two to honor. They all arrived about 15 minutes prior to the time I had been lead to expect them, and although I am not certain of the ethics of such an occurrence, I rolled with the flow and quickly welcomed everyone and proceeded to get out the ice cream, the cakes, beverages and toppings.
As they were all finishing up with the treats, I got out my Floonie and let them play with it, announcing that this was my first impulse buy after two weeks in OZ. That statement generated some mirth and the critter got passed around and took on different forms as a few of the crowd tried out different expressions and shapes on Haiku (the name of the Floonie). I do not know if this amusement generated the result that followed, but Wendy and I were given a spontaneous invite to join them all for a group dinner that they had organized for themselves back at their residence.
So, a couple of hours later we went over and had a dinner of rice to which could be added a mixture of chicken, kangaroo and mixed vegetables. Three had served as cooks and then others collected $5 contributions and another group did the dishes. They refused our offer to pay our share, and I do not know how ethical it was of us to agree, but we did.
As things were winding down, I made sure to express my thanks to the chefs and the dishwashers and then went up to Zach, who had basically not been much involved (this time), and made sure to enthusiastically thank him and shake his hand, which seemed to cause a lot of momentary confusion for him but generated a lot of laughter amongst those in proximity. I only did this since he works at Alcuin and so knows me a bit and I figured he could handle it. This dinner was another good indication that our group seems to be drawing together nicely and working well as a team.
Tuesday was another day of doing things for the program. Wendy had a morning meeting with Tom at Campus Ministry here at UNDA to find out more about how our students could get involved in volunteer work in the community. There are evidently several options for this and some would involve a regular commitment while others would likely only be twice during the whole term. So, this will be good and allow for multiple layers of participation depending upon the interests of each student.
We then had a coffee with Tony, the Australian gentleman who has been spearheading the program to involve our students in Australian Rules Football. He has long been involved in this, both here in OZ and in the U.S., and has also hosted numerous CSB SJU students on home stays during their time here at UNDA.
Tony is setting up a practice for our students this Friday afternoon and also let us know about an article being printed in the U.S. by the Aussie Rules Football league there that will mention the CSB SJU students. At his request, Wendy was able to e-mail Tony photos she had taken last Friday when our students toured a football facility and were hosted at a social event at the team's club. Afterwards, we gave Tony a bottle of wine (and some shortbread) to thank him for all of his efforts on behalf of our students that have given them additional opportunities to get to know Australians.
We then followed this up by inquiring at UNDA about gaining access to an automobile for a short trip this weekend. Kathy at UNDA spent a lot of time going over numerous possibilities for us, and shared some of her invaluable experience with travel in the South Coast. Wendy also signed up to go on the Fremantle Prison tour which is being organized by the UNDA Student Life Office for this Friday night. This is a local event and the night tour is done by flashlight (called a torch here in OZ) and features actors that evidently pop out to surprise visitors and then recite interesting historical and human interest stories.
I will probably not be able to attend this prison tour as I seem to have better things to do. Our landlord, John Lynch is a former farmer turned businessman, who invited Wendy and Don to accompany him on an overnight trip up the north coast to Geraldton where he has a business meeting. Since Wendy has night class on Thursday, she will be unable to go, but Don will tag along. Although John has downplayed the scenery along the coast, Tom at Campus Ministry, who is from the States, strongly encouraged me to go saying that it is totally worth it. So, I will probably not be back in time for the tour on Friday.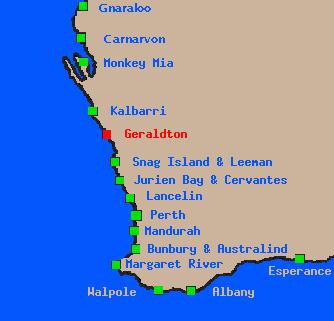 We then walked a significant distance across town to check out another sport that students on past programs have been involved themselves in while here in Fremantle. This is the sport of lawn bowling. We went to a club and spoke with an older gentleman named Bryan. He recalled our students (and others) from UNDA visiting and competing. However, he informed us some of them signed up for regular competitions and then missed several dates without notifying anyone until after they had returned.
Failing to show up for events or classes is evidently not done here in OZ like it is in the U.S. Our students were warned during UNDA orientation that attendance was a serious matter that would affect teachers attitudes toward students and would also negatively affect grading. The same appears to be true in lawn bowling, so do not promise to roll those balls if you do not plan to do so.
After we got back home and had dinner, Don then spent most of the rest of the evening making another batch of shortbread. Wendy needs to bring a dessert to the dorms prior to the prison tour, so once again Don stepped up even though he will not likely be able to attend the event. Or could he reasoning be other than altruistic? Perhaps he does not want Wendy to be put out by his getting to travel while she stays in Fremantle and goes to prison?
Back to the cookie baking. Since Don made a rather rare but serious error and accidentally doubled the amount of butter usually involved in his recipe, and did not realize it until other ingredients had been mixed in, lots of time had to be spent getting all of the other elements in their near correct proportions. This required several interventions on Wendy's behalf to test dough sweetness and quality and then to insure that the baking process was thorough. Finally, much later than he would have anticipated, those cookies were in the bag.
Wendy stayed up very late Tuesday and finally succeeded in getting the computer printer here at home to work, or at least mostly work. For some reason, it will not print in black. All other colors work fine except the one most commonly used and thus the one most needed.
On Wednesday, Don took control of the horizontals and the diagonals. Well, after begging Wendy to go with him to the local Maritime Musuem of Western Australia, she finally relented. Neither one of us was really all that keen to goat first, but Fremantle was one of if not the first port city in Western Australia and has had its fortune's tied to the sea and sea borne commerce for its entire existence. How could we not go to something like this that is just four blocks from where we reside?The museum is of a unique design and features an entire history of human involvement in maritime activity.
For more recent history, military actions from the world wars in the seas around OZ are detailed and of course the 1983 victory by the Australia II in the Americas Cup sailing races that took the trophy away from the U.S. after more than 130 years of possession. Of course the American losing captain vowed revenge and four years later when the race was held here in Fremantle he took back the trophy. Still, having the races here revitalized the city and put it on the map once again and it has maintained a place as one of the most heavily visited tourist destinations in OZ.
(Wendy adds that the best thing about it was all the plastic food:
Plastic fish sticks!! Can you believe it?
Not be willing to give up on a successful theme, Don insisted that the dynamic Wendy also accompany him to the Fremantle Art Musuem. She did this begrudgingly (because she had work to do) but wound up enjoying this place quite a bit. It featured exhibits of local history, specifically the large immigration of Europeans to OZ after World War II. There was also an exhibit of unique quilts and a collection of older televisions and unique devices that preceeded the motion picture camera. She also found out how to contact local crafts and arts groups that she and her mom (who will join her here in September) will want to meet up with.
All in all a tourist type of day for us. At least when Wendy was not taking care of student business by e-mail. A lot of her time has been spent negotiating for students to receive credit for the science classes they take here at UNDA back at CSB SJU. The folks here at UNDA have been very involved in answering questions for Wendy's colleagues back in MN so that our students do not lose out on any credits, but all of this has taken lots and lots of time and is not fully settled for everyone just yet.
We also received an e-mail from our housesitter. All of our animal companions are doing well, including the elderly Snuffy whom we were worried about. It has been extremely hot back home, but the worst of that is evidently over with the arrival of much needed rainstorms. For us, rain is more the norm here. In fact, July is when almost all of the rain that WA receives happens. It is in fact forecast to be raining at the times when we can travel south to see the big trees and the south coast. Maybe we will not have to worry about the crowds?
This is Australian Mexican Food for Mindy:
This is the Fremantle Arts center a beautiful old building with a shady courtyard and studios for artists along with a history and art museum.
And finally there's a bird in that Bush there that we saw at the art museum.